with Air Treatment for Your Facilities


Indoor Air Quality
Throughout the wake of the COVID-19 pandemic, IAQ has been on the forefront of providing innovative indoor air quality technologies to agencies striving to create a safer and healthier environment for building occupants. From viral disinfection technologies to continuous air monitoring solutions, IAQ will provide your agency with an effective disinfection strategy tailored to meet your needs.
Introducing the innovative WellAir Nano Plus, leveraging its patented nanotechnology which combines multiple inactivation processes in one powerful strike to safely disinfect the air in a sub-second timeframe. This technology will provide your agency with a long term solution for your overall disinfection strategy in combatting harmful pathogens.
While it's important to implement an effective disinfection strategy, it also becomes vital to ensure a proper measurement and monitoring dynamic. The Aura serves as an effective real time commercial monitoring system, measuring 13 indoor air quality parameters, while providing an index of the current viral and indoor air quality dynamic within a room at any given time. Through comprehensive building integration, the Aura system allows your agency to access to real time historical data, analysis, alerts, tips, and integrations to improve your indoor environment anytime, and anywhere.
The Air Guardian Difference
Technology that leverages a UVC light spectrum that has been a widely used and accepted method for killing pathogens for 50+ years.
Product has been registered with the EPA (verifying ability to kill pathogens) & the FDA classified as a Class-1 Disinfectant Medical Device.
Technology has been 3rd party tested by Seoul Semiconductor, one of the largest electronic manufacturers in the world, and confirmed to kill the virus that causes COVID-19 in 3 seconds.
Product comes with a 5-years warranty with a 25 year useful life.
Provides continuous disinfection while occupants are in the room.
A Solution to an Immediate Problem
The Air Guardian delivers continuous disinfection, while occupants are in the room without interrupting daily activities. With an easy installation and little to no maintenance, the Air Guardian stands as a "set it – and forget it" type solution. Through its patented technology and clinical studies, the Air Guardian has proven to kill the virus that causes COVID-19 in 3 seconds, providing your agency or business with the highest level of disinfection available on the market today!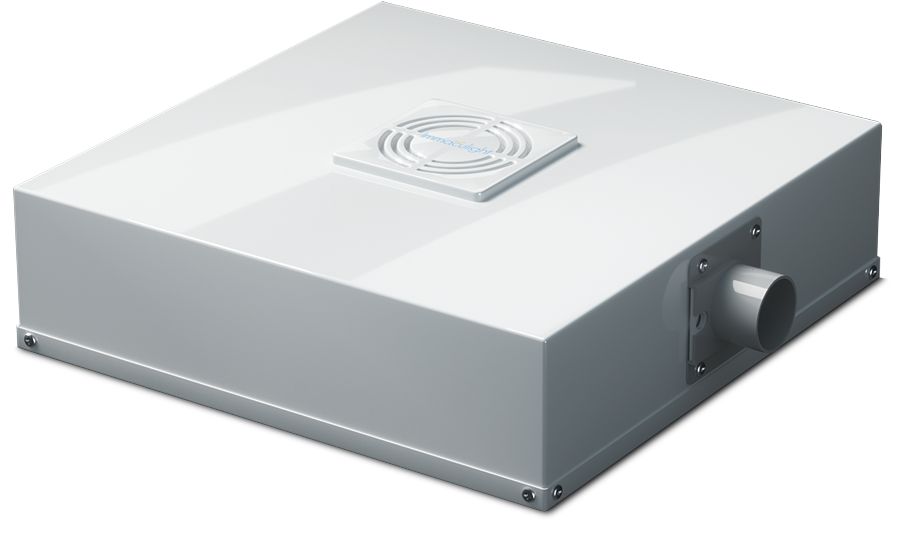 | | |
| --- | --- |
| Dimension | 15.44"l x 15.51"w x 4.23"h |
| Weight | 10 lb |
| Fan Watts | 17 W |
| UV Chip Watts | 20 W |
| Voltage | 120-277 V |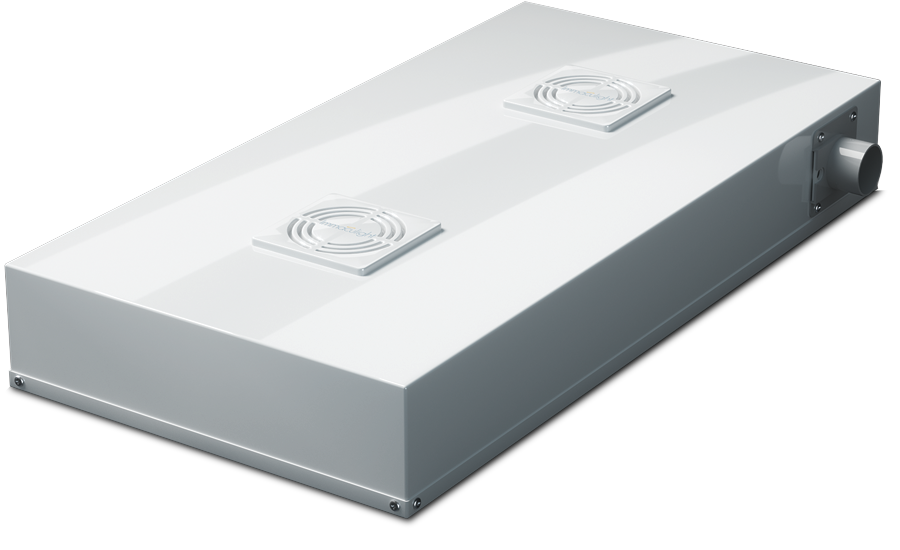 | | |
| --- | --- |
| Dimension | 47.4"l x 20.3"w x 4.05"h |
| Weight | 18 lb |
| Fan Watts | 34 W |
| UV Chip Watts | 60 W |
| Voltage | 120-277 V |
Introducing the Air Guardian
Our new innovative UVC Technology allows agencies to address their COVID-19 sanitation strategy with the highest level of disinfection available on the market today! The Air Guardian allows for continuous disinfection, while occupants are in the room and is backed by clinical studies to kill the virus that causes COVID-19 in 3 seconds.
Purifying Results
Viasys along with Thermo Electron 3rd party independent lab testing - respiratory care division bacteria, mold, viruses, and yeast - KILL RATE 99.99%
Acinetobacter baumannii6
Bacillus anthracis - Anthrax1
Bacillus anthracis spores - Anthrax spores1
Bacillus magaterium sp. (spores)1
Bacillus magaterium sp. (veg.)1
Bacillus paratyphusus1
Bacillus subtilis spores1
Bacillus subtilis1
Clostridium difficile5
Corynebacterium diphtheriae1
Ebertelia typhosa1
Escherichia coli1,2
Leptospiracanicola - infectious Jaundice1
Microccocus candidus1
Microccocus sphaeroides1
Mycobacterium tuberculosis1
Neisseria catarrhalis1
Phytomonas tumefaciens1
Proteus vulgaris1,2
Pseudomonas aeruginosa1,2
Pseudomonas fluorescens1
Salmonella enteritidis1
Salmonela paratyphi - Enteric fever1
Salmonella typhosa - Typhoid fever1
Salmonella typhimurium1
Sarcina lutea1
Serratia marcescens1
Shigella dyseteriae - Dysentery1
Shigella flexneri - Dysentery1
Shigella paradysenteriae1
Spirillum rubrum1
Staphylococcus albus1
Staphylococcus aureus1,2
Staphylococcus hemolyticus1
Staphylococcus lactis1
Stenotrophomonas maltophilia1
Streptococcus viridans1
Vibrio comma - Cholera1
Aspergillius flavus1
Aspergillius glaucus1
Aspergillius niger1
Mucor racemosus A1
Mucor racemosus B1
Oospora lactis1
Penicillium expansum1
Penicillium roqueforti1
Penicillium digitatum1
Rhisopus nigricans1
Protozoa
Chlorella Vulgaris1
Nematode Eggs1
Paramecium1
Bacteriopfage - E. Coli (MS2)1
Coronavirus (SARS-CoV-2)4
Infectious Hepatitis1
Influenza1
Poliovirus - Poliomyelitis1
Tobacco mosaic1
Brewers yeast1
Candida albicans3
Common yeast cake1
Saccharomyces carevisiae1
Saccharomyces ellipsoideus1
Saccharomyces spores1,2
Air Guardian® contributes towards earning points required pursuing WELL Certification, satisfying the following Features:
A01 Air Quality
A03 Ventilation Design
A05 Enhanced Air Quality
A06 Enhanced Ventilation Design
A12 Air Filtration
A13 Enhanced Supply Air
Air Guardian Studies & Certifications

FDA Facility # 10077990  |  Illumipure EPA Establishment Number 98105-TX-1  |  FDA Medical Device Classification Device Class 1 Listing #D4204 97
Additional Questions?

Please Reach Out.
Jake Torres
Senior Account Executive